This is a 'how to' on posting pictures to the forum using the internal image host 'servimg'
To insert a picture in your post, locate the 'Host an image' icon located along the top of the post window:
When you click on the icon a second window will pop up: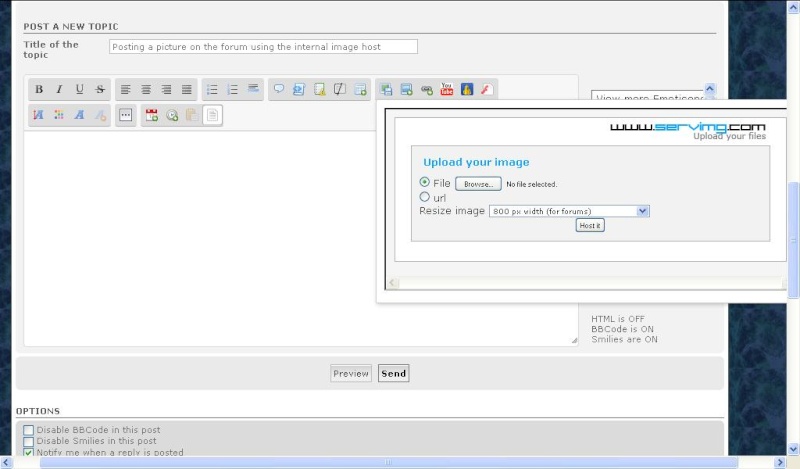 Click on the 'Browse' button and select the picture from your files that you want to insert: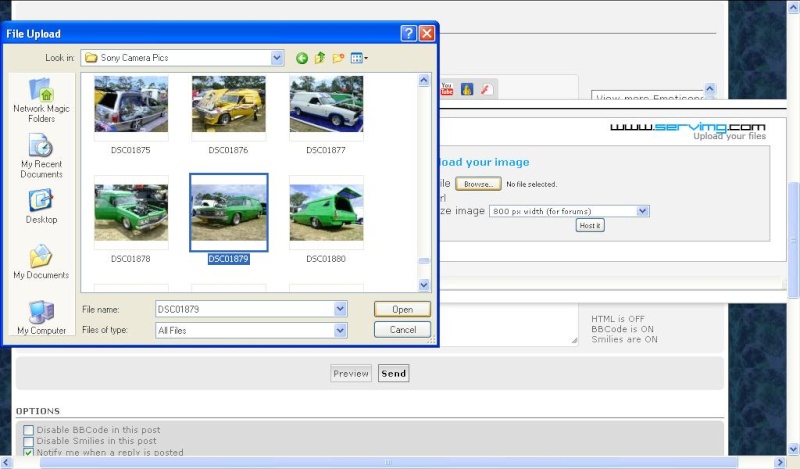 Once you have selected the picture, click on the 'open' button.  That window will close and now your file will appear next to the 'browse' button in the previous window.  Now click on the 'Host it' button:
You will have to then wait for a few moments as the picture is uploaded to the image hosts server.  When the upload is finished a new window will open up that appears like this:
Press the 'copy' button located to the right of the 'Image url' file path or right click and select copy.  Then press the 'Insert Image' icon located to the right of the 'Host an image' icon.  A new window will open:
Right click and paste the copied file path into the 'URL' window and then click 'Insert'.  The image will then be inserted into the post window and appear like this:
Now that the image has been inserted into the post you can hit the 'Preview' button to see how it will appear when you post it: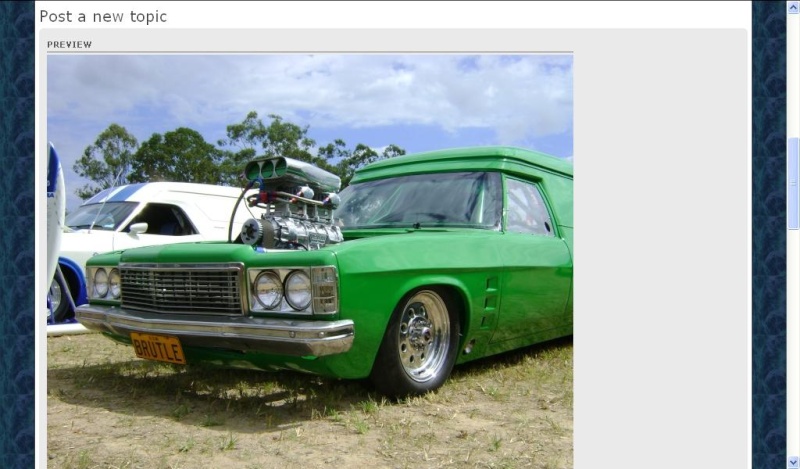 If you are happy with how it appears click the 'Send' button to post it to the forum.  If you want to post multiple pictures in the one post, simply press the 'Host an image' icon again.  The window with the file paths will appear again but just press the 'upload' button at the bottom of the window to return to the 'browse' window.

HQVAN

MAJESTIC VANNER, Proud, Passionate, Paid Up 2019!




Posts

: 2036


Join date

: 2011-01-01


Age

: 41


Location

: Cranbourne North, Victoria




_________________
Regards

Rusty!

______________________________________________________________________

Holdens, TransAm Fronts, Custom Mods, Tunnel Rams & 350 Chevs!

At EASTER 2012 and then on the Sept/October Long Weekend since 2013 we've held our Annual Van-Ins.  All Welcome.  
Relive the 80's & Embrace the New Millennium!  
If you haven't been, You've been missing out on one of the Eastern States' Most Popular & Successful Annual Vanning Events!

The 2019 Van-Ins will be: Albury/Wodonga #08 from Friday 27th to Monday 30th September; and Hervey Bay #04 from Friday 4th to Monday 7th October!
Keep an Eye on this Forum for more updates.

We have Chapters in Qld, NSW, Vic, SA and WA.  Club Rego available in QLD, NSW, Vic & SA.
---
Permissions in this forum:
You
cannot
reply to topics in this forum