Here is a Screenshot to demonstrate where to find & make the changes required: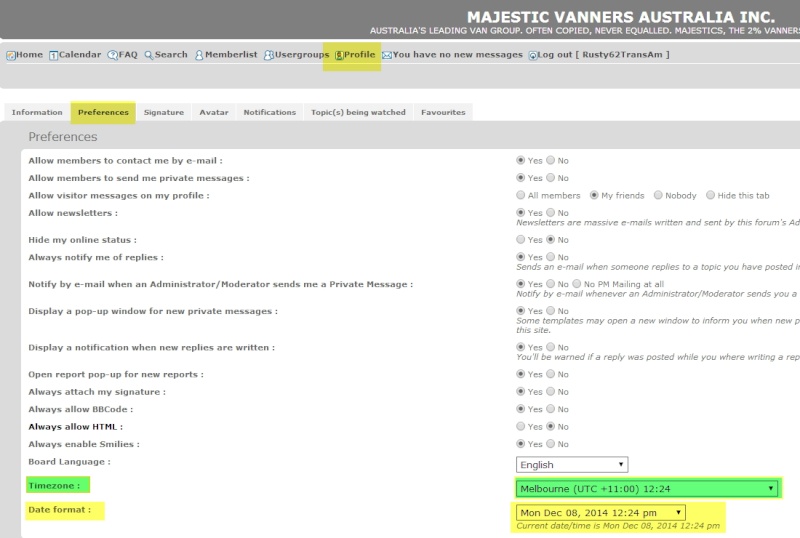 Green to change Time Zone and Yellow to change how the Date Format is displayed.
From time to time it would appear the Forum is updated and resets the "current" time to another Time Zone.  Instanbul has been one of them.
If you do not see the year displayed in posts you will need to changed the Date Format to display the year.

_________________
Regards

Rusty!

______________________________________________________________________

Holdens, TransAm Fronts, Custom Mods, Tunnel Rams & 350 Chevs!

At the EASTER 2012, and the October 2013, 2014, 2015 & 2016 Van-Ins  
We Relived the 80's & Embraced the New Millennium!  
If you weren't there, You missed out on a few of the Eastern States' Most Popular & Successful Annual Vanning Events since 2012!

The 2017 Van-In Albury/Wodonga #06 and Hervey Bay #02 will be from Friday 29th September to Monday 2nd October!
Keep an Eye on this Forum for more updates.

We have Chapters in Qld, NSW, Vic & SA and pending Chapter in WA.

Club Rego available in QLD, NSW, Vic & SA.
---
Permissions in this forum:
You
cannot
reply to topics in this forum